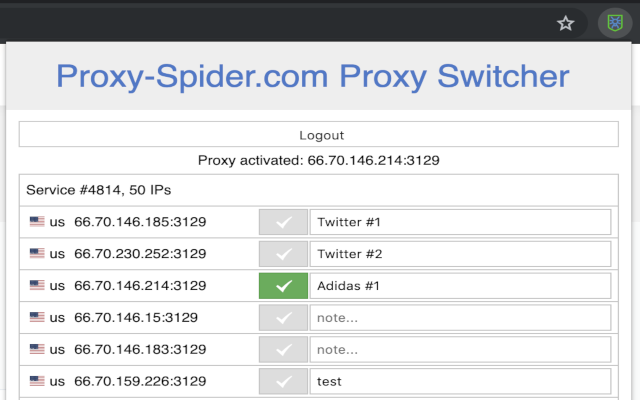 Private Proxies Switcher
Firefox Extension*
Switch between multiple private proxies quickly and easily!
*Requires a paid account on proxy-spider.com!
Features
Software-Free
You can install this simple extension in just 5 seconds. Additional software is not required.
Easy-to-Use
Install, enter your username and password, and go Proxying!
Notes!
You can add a note to any available private proxy. Organize your work!
See Country
You can find out the country of proxy before using.
How it work? 4 simple steps:
1. Register at Proxy-Spider
You can create an account at this link.
2. Buy any Private Proxies plan
Our Private Proxies plans are presented here.
3. Install Our Firefox Extension
Install our Firefox Extension from official firefox extensions market. It's free. Proxy-Spider Proxy Switcher.
4. Enter your Proxy-Spider login and password
Click to the Extension Icon, enter your Proxy-Spider login and password, click "Sign In". It's all set.